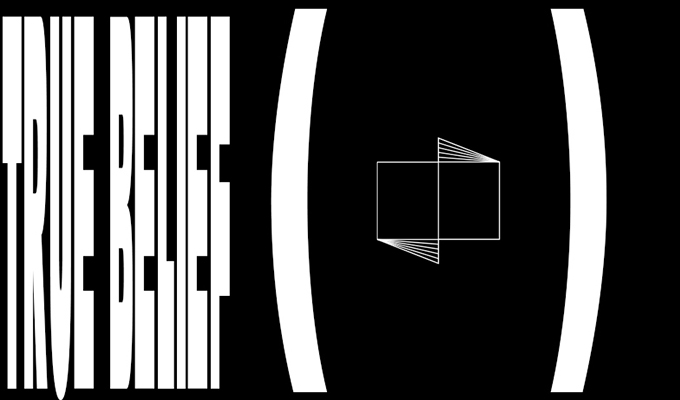 True Belief is a tiny, informal, independent, not-for-profit art publisher, organised by
Adam Cruickshank
. It was initially instigated as an umbrella for releasing my own artist books and catalogues for friends. While remaining true to these non-professional beginnings, True Belief is increasingly concerned with the relationships between contemporary art practice and its methods of dissemination, explication and preservation. Publications are mostly unnumbered/unsigned and although print runs are necessarily small, editions are usually open. True Belief has published the work of over 60 artists, writers and designers. Some publications can be ordered
here
. Please email (query @ truebelief.com.au) for any enquiries.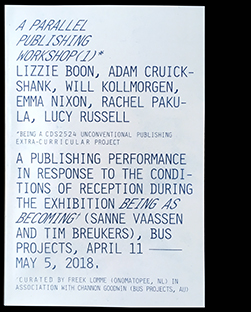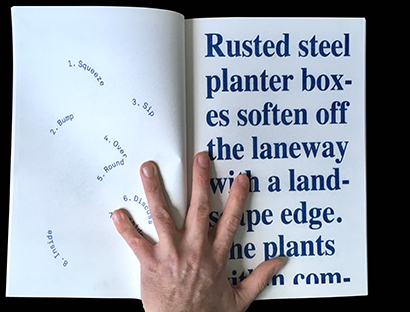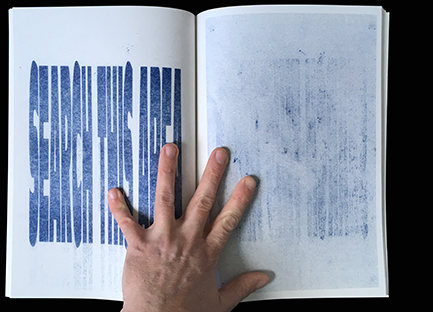 A Parallel Publishing Workshop (1)
2018 / A4 / 84 pages / risograph one colour / perfect binding / ISBN 978-0-6482517-0-5 /
A publication in response to the conditions of reception during the exhibition Being As Becoming at Bus Projects, curated by Freek Lomme (Onomatopee, NL). Produced live during the exhibition as a series of A4, group-authored, collaborative sheets adhered to the wall of the Publication Space and later removed in the order they were made and collated into a book. By Lizzie Boon, Adam Cruickshank, Will Kollmorgen, Emma Nixon, Rachel Pakula, Lucy Russell. First print run of 100 copies. Co-published with Bus Projects, print production funded by Bus Projects / Mondriaan Fund. Email (query @ truebelief.com.au) for purchase queries.

Buy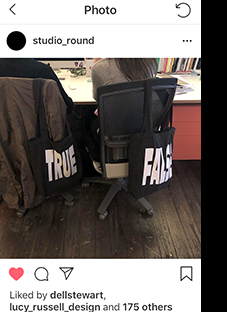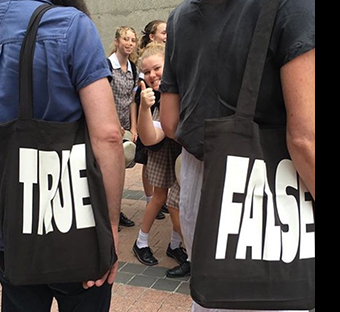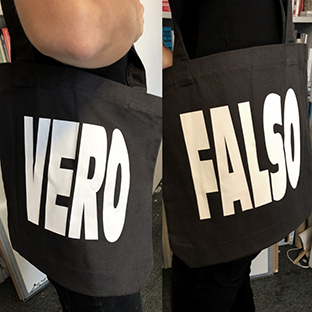 True/False book bag
42cm x 42cm / 100% 320gsm cotton canvas / Reinforced shoulder straps /
Charcoal tote bag printed each side (true one side, false the other) in opaque white. This bag is now in its third printing. Fits over one shoulder and can carry too many kilos of books. Also printed in an Italian version (currently unavailable).

Buy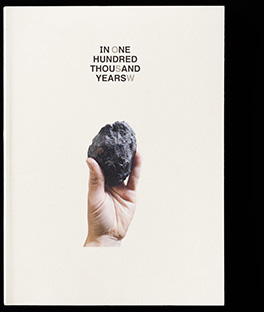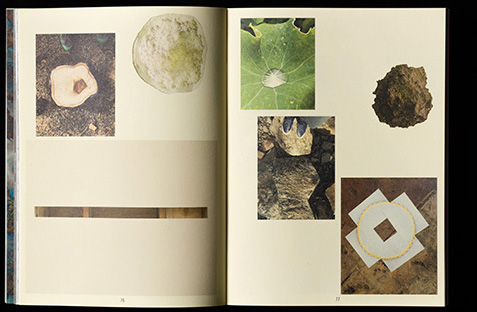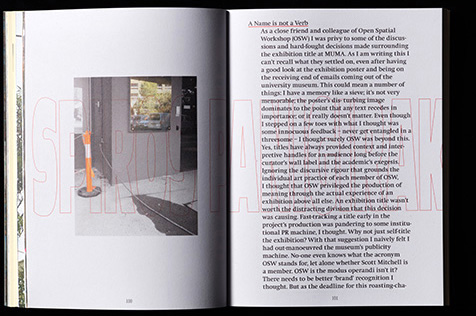 In One Hundred Thousand Yearsw
2017 / 140x190mm / 256 pages / waterless offset / cold glue bound / tête-bêche / ISBN 978-0-9871705-8-3 /
A publication about the practice of Open Spatial Workshop (Terri Bird, Bianca Hester, Scott Mitchell) that also comprises a response to that practice. This book is the first published monograph on OSW and concurrently an artist book. It includes a complete (overprinted) bootleg of the OSW publication Converging in Time. Contributions from Jon Roffe, Spiros Panigirakis, Dermot Henry, Duane Hamacher and Natasha Johns-Messenger. Launched at the NGV, 2017.

Buy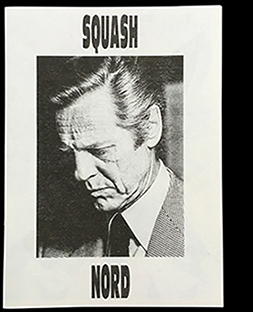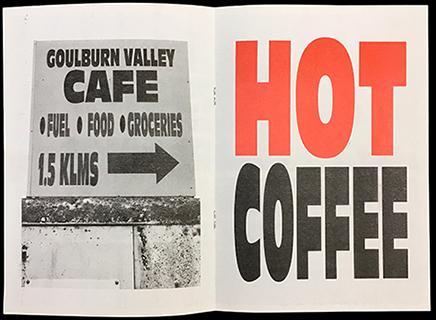 Squash Nord
2017 / 148x210mm / risographed two colours / 24 pages / saddle-stitched / first printing sold out, second printing available /
Adam Cruickshank and Ned Shannon. Typeface specimen zine that collates and codifies instances of a particular typo-vernacular style. Including download link for two weights (38% and 20%) of a squashed version of Roger Excoffon's typeface Antique Olive Nord. First printing sold out (profits were donated to ASRC). Second printing now available.

Buy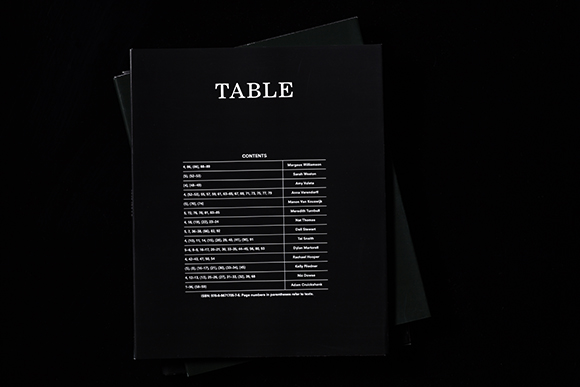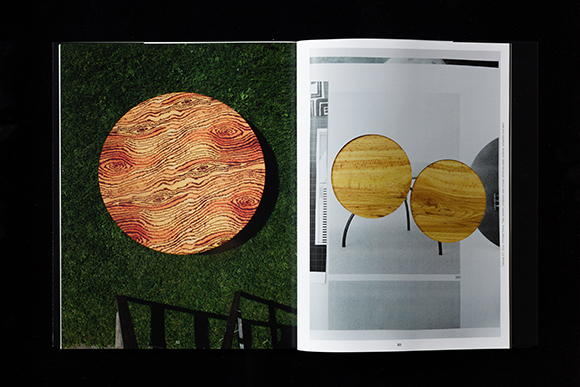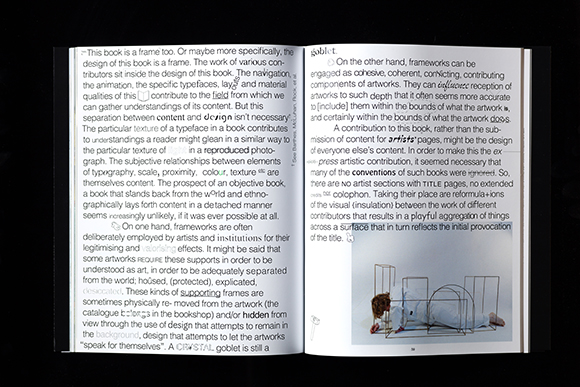 Table
2016 / 210x260mm / 96 pages / digital offset / perfect bound / ISBN 978-0-9871705-7-6 /
Edited by Dell Stewart. A book-format exhibition where the graphic design is explicitly curatorial. With contributions from Margaux Williamson, Sarah Weston, Amy Vuleta, Anna Varendorff, Manon Van Kouswijk, Meredith Turnbull, Nat Thomas, Dell Stewart, Tai Snaith, Dylan Martorell, Rachael Hooper, Kelly Fliedner, Nic Dowse, Adam Cruickshank.

Buy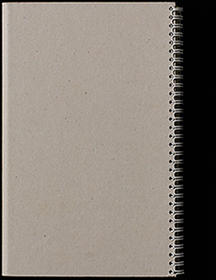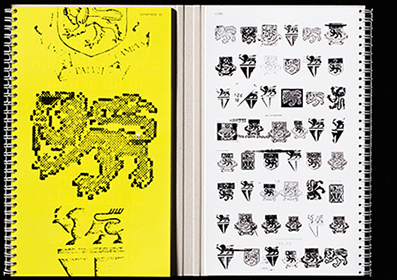 Department of Lions
2016 / 164x274mm / 236 pages / triple spine bound / ISBN 978-0-9871705-6-9 /
The Department of Lions visual reader was produced a year after the exhibition and series of actions of the same name at Plimsoll Gallery, School of Creative Arts, UTAS. The exhibition comprised a series of interventions into the archive of gallery ephemera, including tactics that reordered, reimagined and redistributed the archive.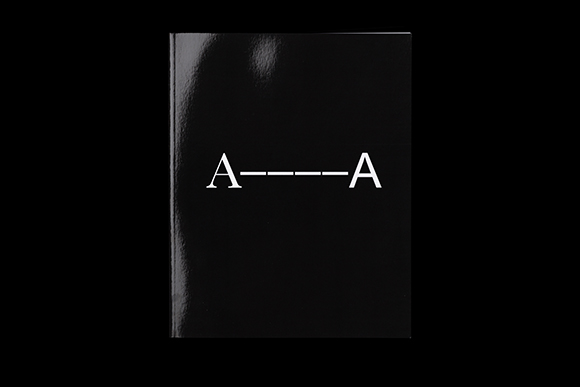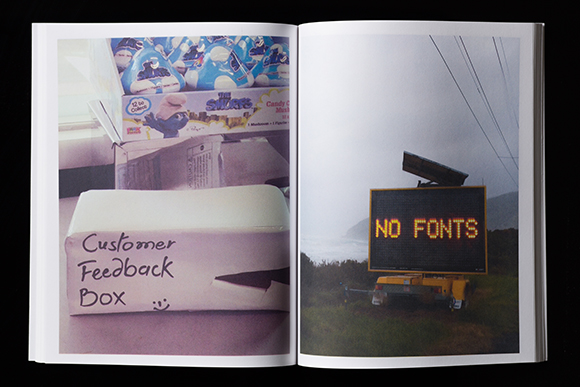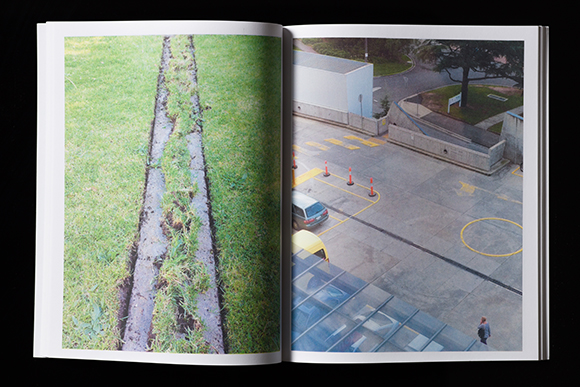 A– – – –A
2014 / 210x260mm / 104 pages / perfect bound / second printing / ISBN 978-0-9871705-5-2 /
Purely photographic exhibition reader that is the first in a series ostensibly about the dissection of public space and that attempts a parallel mediation of the exhibition. Accompanied Actual Size at Bus Projects, Melbourne. Actual Size was a collated archive of published ephemera (both exhibition related material and commercial design work) and modular display structures.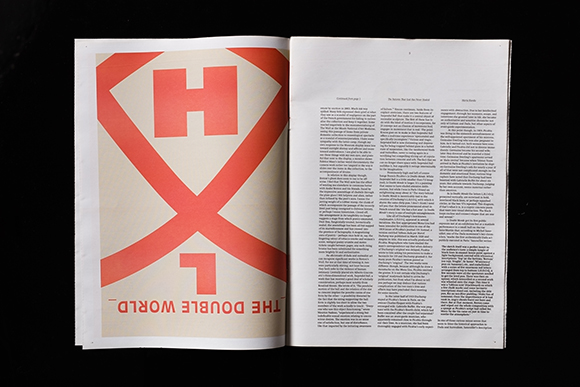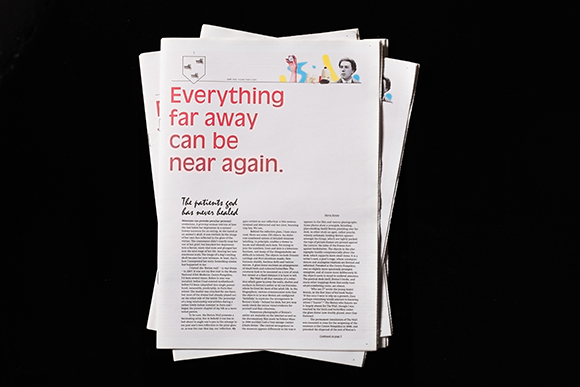 Everything Far Away Can Be Near Again
2014 / tabloid newsprint / 36 pages / saddle-stitched / ISBN 978-0-9871705-4-5 /
Exhibition reader that accompanied exhibition of the same name at Linden Contemporary Art Spaces, Melbourne. A parallel publication that explores ideas inherent in the exhibition (a restaging of Andre Breton's wall of objects housed at the Centre Georges Pompidou). With contributions from Terri Bird, Scott Mitchell, Brad Haylock, Anusha Kenny, Ash Kilmartin and Maria Kunda.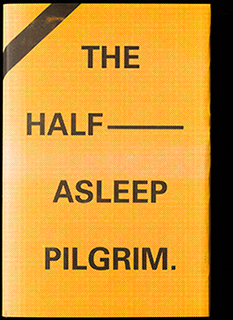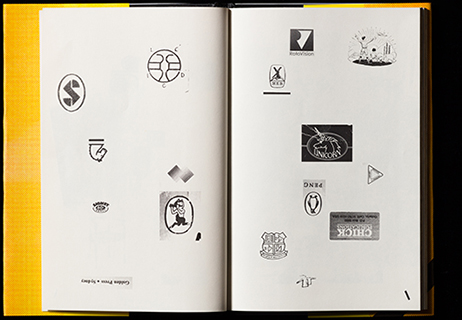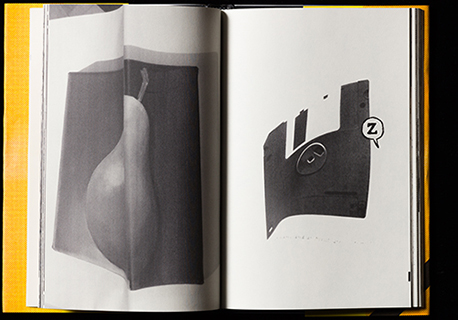 The Half Asleep Pilgrim
Exhibition 2011, publication 2013 / 150x230mm / 144 pages / riso dust jacket / perfect bound / ISBN 978-0-9871705-2-1 /
This sold out project has been reprinted as The Half-Asleep Pilgrim 2: a new edition of similar contents, completely rearranged.
Artist book and culmination of performative exhibition of the same name at West Space, Melbourne. This publication is a synthesis of a reading library contributed by 36 artists and friends that was housed in a custom made workspace available to the public for the duration of the event. The exhibition was essentially a set of rules and structures to determine how the exhibition itself would be remembered. Temporary reading library items kindly loaned by: Peter Barrett, Terri Bird, Kim Brockett, Angela Brophy, Bree Claffey, Nic Dowse, Penelope Durston, Kelly Fliedner, Channon Goodwin, Agatha Gothe-Snape, Paul Green, Andy Hutson, Brad Haylock, Lily Hibberd, Christopher LG Hill, Helen Hughes, Rachael Hooper, Anusha Kenny, Annika Koops, Drew Martin, Dylan Martorell, Kate Matthews, Pat O'Brien, Spiros Panigirakis, Casey Payne, Simon Pericich, Donald Russell, Vivian Smith, Dell Stewart, Nella Themelios, Ilia Rosli, Ian Wadley, Helen Walter, Frans Van Lent, Anna Varendorff, Emile Zile.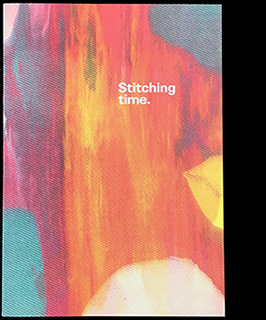 Stitching Time
2013 / 148x210mm / 44 pages / digital / perfect bound / ISBN 978-0-9871705-3-8 /
Publication accompanying exhibition of the same name at Craft, curated by Dell Stewart and Isobel Knowles with work by Harvest textiles, Jeremy Dower, Penelope Durston, Rebecca Hayes, Isobel Knowles, Kate Matthews, Dell Stewart, Kayo Taguchi, Maryann Talia Pau and Pauline Tran-Cecil. Book features writing by Phip Murray and Jared Davis.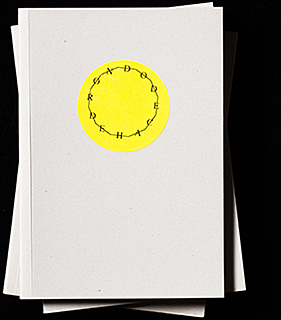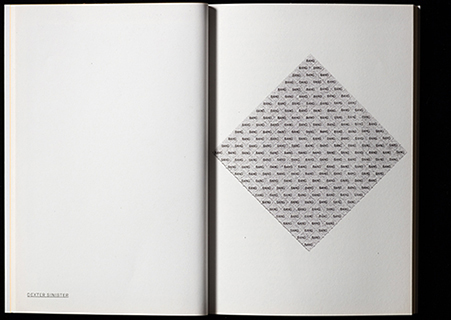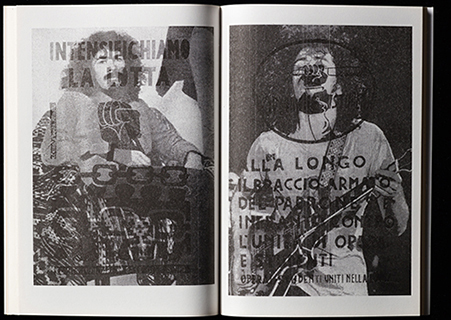 Dodecahedron
2012 / 2 volumes (1 dummy), 100 pages each / 148x210mm / risographed / perfect bound / ISBN 978-0-9871705-1-4 /
Publication accompanying exhibition of the same name at Platform Contemporary Art Space, curated by Adam Cruickshank. Including contributions from Damiano Bertoli, Terri Bird, Zoë Croggon, Adam Cruickshank, Nic Dowse, Tony Garifalakis, Stuart Geddes, Agatha Gothe-Snape, Nathan Gray, Brad Haylock, Christopher LG Hill, Spiros Panigirakis, Joshua Petherick, Tom Polo, Dexter Sinister, Dell Stewart, Masato Takasaka, Nat Thomas, Oliver Van Der Lugt, Anna Varendorff, John Warwicker, Annie Wu.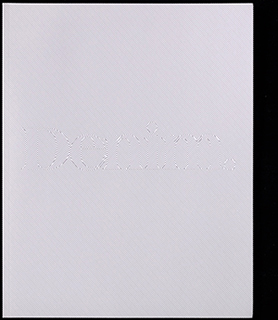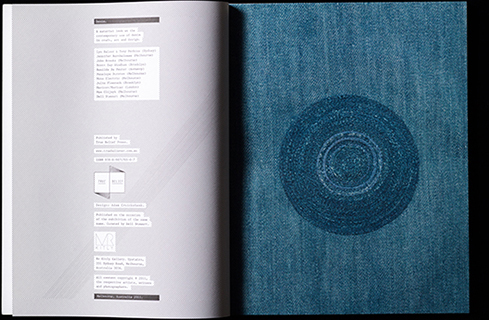 Denim
2011 / 40 pages / perfect bound / ISBN 978-0-9871705-0-7 /
Publication that accompanied exhibition of the same name at Mr Kitly. Featuring artists Julie Floersch, Max Olijnyk, Jen Bartholemew, Mona Electric, Lyn Balzer & Tony Perkins, Renilde Depeuter, Penelope Durston, Dell Stewart, Maricor/Maricar, Brett Day Windham, John Brooks.


True Belief operates primarily on the stolen lands of the Wurundjeri people of the Kulin Nations: sovereignty was never ceded. Photos are (mostly) by Matthew Stanton. Sometimes, True Belief donates books to libraries on request (query @ truebelief.com.au). Titles are / have been stocked at World Food Books, MUMA, Bus Projects, West Space, Perimeter, MCA, ACCA and Boekie Woekie . Why "True Belief"? Because we appreciate contradiction. If it's true, it doesn't require belief and if we believe it, does it matter if it's true?